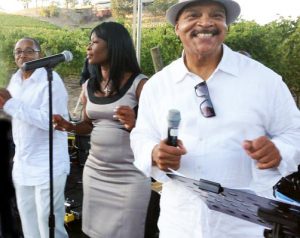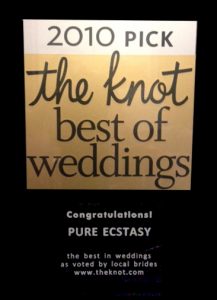 Pure Ecstasy was selected by The Knot as it's Best of Weddings in 2010.
People Love PE!
V.H., San Francisco, CA.
Book this band for your wedding and you won't regret it.

This band is amazing! They could be headlining a Motown tour, and the fact that they performed at our wedding was a great honor. They switched seamlessly from old Motown favorites to modern day hits in a Motown style. I have never seen so many of my family on the dancefloor at once, and for weeks afterwards they were constantly brought up as a highlight of the evening. One of our favorite moments was when they busted out Journey's "Don't Stop Believing" and had a call/response with the dancefloor. You can't script this stuff!

Preston was always very professional and pleasant to work with (though sometimes you have to send a follow up email if you haven't heard from him after a few days but he does always answer eventually!)! We booked the band sight unseen based off of the rave reviews of everybody who has seen them/dance to them and they blew away all of our expectations. We had a conference call with Preston and that one phone call was essentially all he needed to plan out a phenomenal evening, including coordinating songs and schedules for the first dances. He even offered to learn our first dance song (we declined as we had a very special recording we wanted to use) but helped us pick songs for the dances with parents.

The vibe and energy Pure Ecstasy brings to the stage is electrifying. We had a full dance floor all night – and if you've been to DJ'ed weddings, you know that's a rarity. After they completed their set, the crowd was chanting "One more song! one more song!" and our very drunk cousin was trying to drag Preston back on stage. People were soaked in sweat by the end from all the dancing and singing – this was exactly the party we wanted. A colleague of ours was musing outloud, "I need an excuse to throw a party so I can hire this band and dance to them again." If that isn't a fantastic compliment and indicator of how great Pure Ecstasy was, I don't know what is!
Sarah Louise H., San Francisco, CA.
Amazing!!
Pure Ecstasy performed at our wedding in October and were amazing!! We had a very formal black tie wedding and Preston and his team were so professional. I had several people tell us this was the best band they had heard at an event or a wedding. The band has a huge range in what they play as well – from country to Motown to pop – truly great range. Highly recommend this group and would definitely use them again. THANK YOU for making our night so great!!
See us live every week at the Broadway Grill in Burlingame bwgrill.com